This section of the website provides you with all the necessary information regarding Emeria, including its profile, key figures, international footprint, subsidiaries and history.
Emeria is the world's leading provider of real estate services and technologies. We have recently entered the commercial real estate services segment for B2B customers. In addition, we have established ourselves as a leader for real estate services in Belgium, France, Germany, the UK, Luxembourg, the Netherlands, Portugal and Switzerland by delivering high quality, reliable and innovative products uniquely suited to the needs of our customers.
We assist our residential and commercial customers at every stage of their property journey with competitive and comprehensive service offerings. We provide end-to-end assistance, from managing individual apartments and building areas jointly owned by apartment owners through our lease management and joint property management business lines, respectively, to providing renting, brokerage and digital and ancillary services such as insurance brokerage, technical diagnostics, and distribution and energy brokerage offerings through our other business lines.
Over
17,000
employees
in 8 countries
—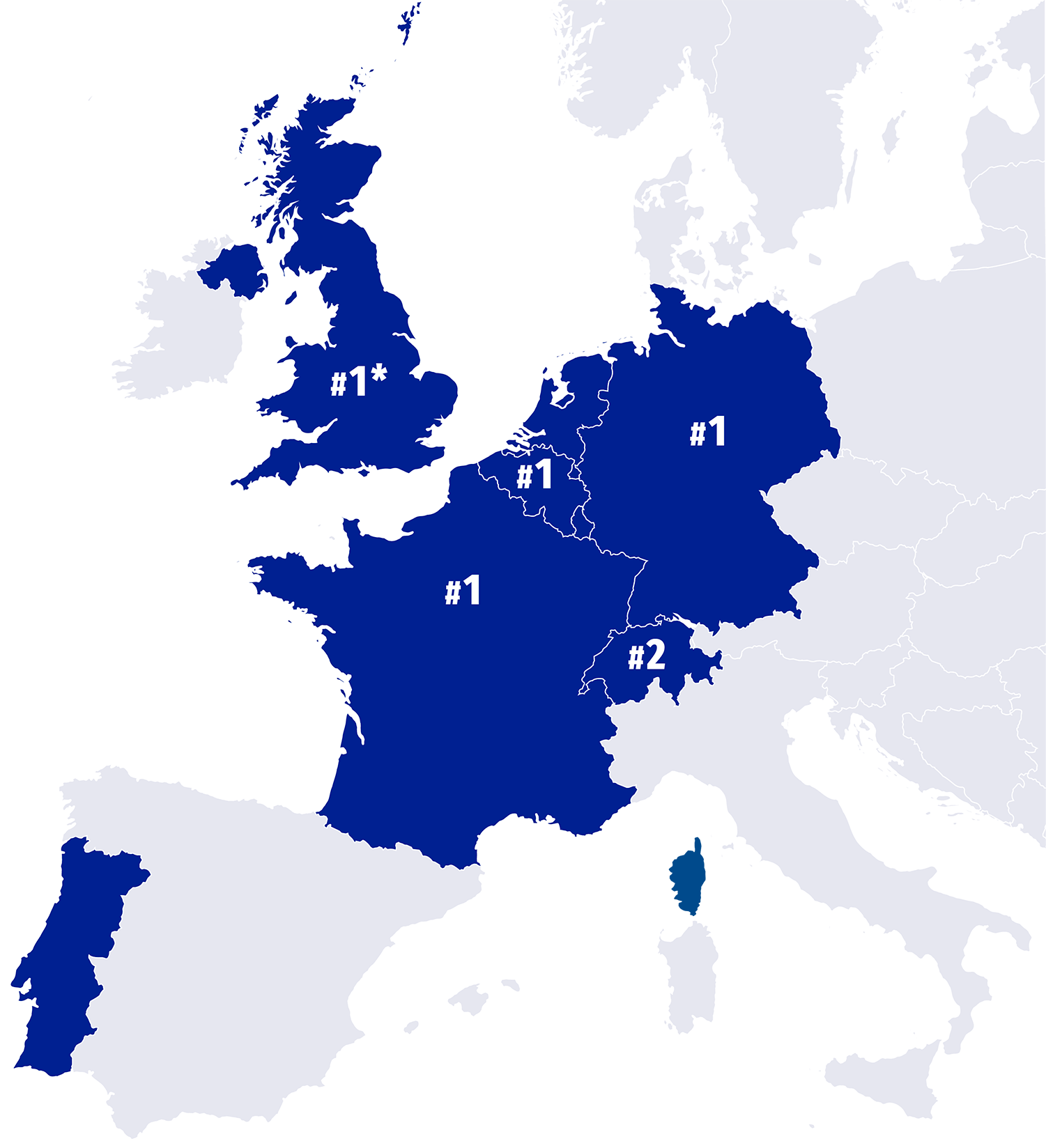 EMERIA ORGANISATION CHART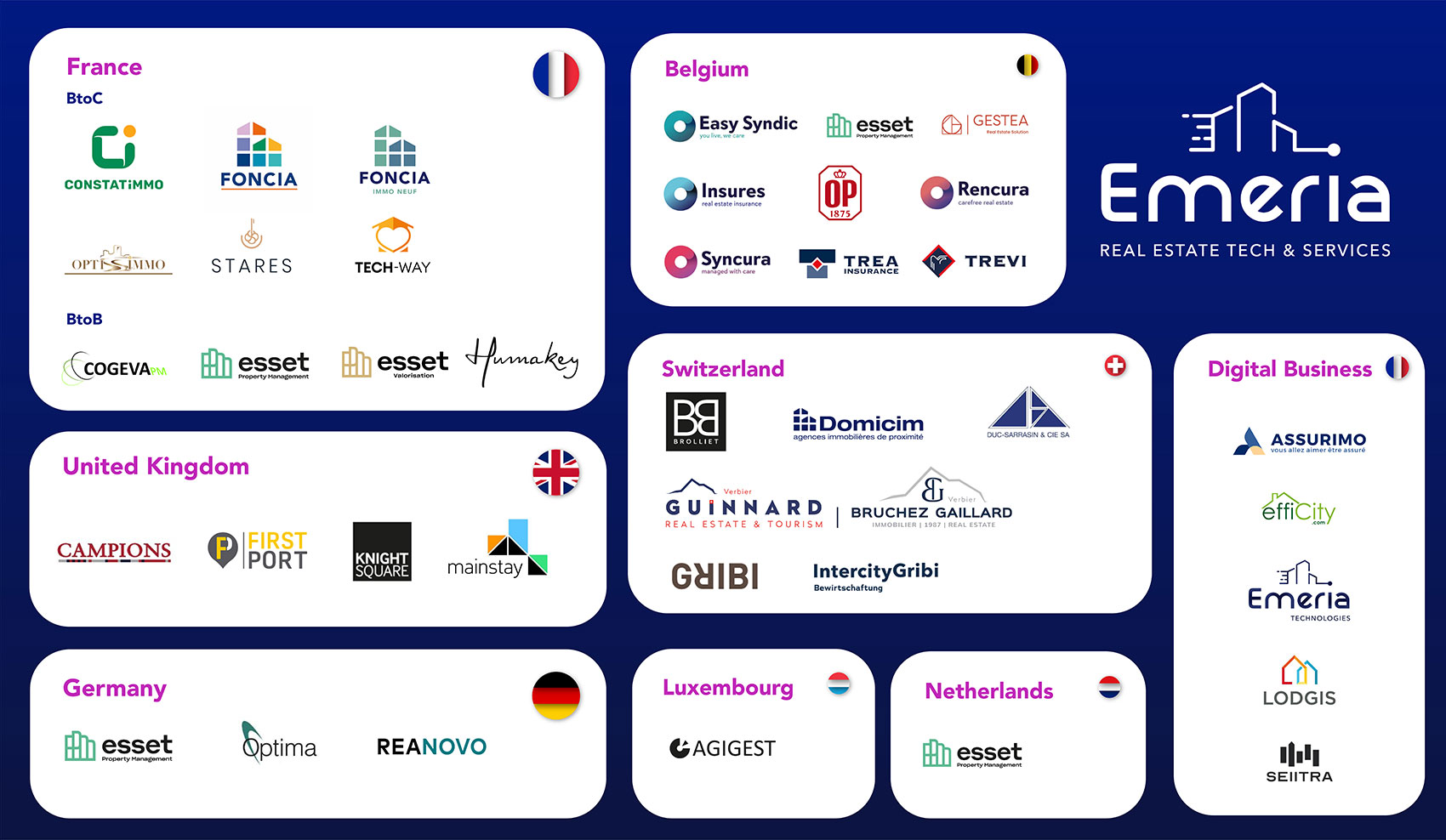 A EUROPEAN BRAND PORTFOLIO
As seen in the organisation chart above, Emeria operates across Europe under various brands, according to our needs, means and objectives in each market. This brand portfolio is the result of an extensive external growth policy over the years, complemented by the creation of ad hoc brands. Each brand, both in France and abroad, plays a role in the success of the Group's core businesses as well as the ancillary services we offer.
The story of Emeria began in 1972, with the incorporation of Foncia in France. Emeria has since expanded its business with acquisitions of real estate services businesses in Belgium, France, Germany, Luxembourg, the Netherlands, Portugal, Switzerland and the UK. We are focused on improving our technological capabilities to optimize our efficiency and overall business offering. From January 2016 to December 2021, we completed approximately 290 acquisitions, primarily within joint property management, lease management and renting. Our external growth strategy and the development of ancillary service offerings have been key drivers of our historical growth. The following are the key milestones in our corporate history.
August 2022
—
Emeria expands into the UK and Scotland with the acquisition of FirstPort, and becomes the world's leading provider of real estate services.
February 2022
—
Emeria expands into Portugal with the growth of Efficity's activities.
January 2022
—
Emeria enters the Dutch market with Esset through the acquisition of Codabel, and also acquires Cushman & Wakefield's property management business in Belgium.
January 2022
—
In France, Laurence Batlle is appointed President of Foncia RRES and Jordan Frarier is appointed President of Foncia Brokerage.
January 2022
—
The Foncia Management holding becomes Emeria.
Philippe Salle, President and CEO of Foncia Management, becomes President and CEO of Emeria.
July 2021
—
Esset acquires HumaKey.
December 2020
—
Acquisition of OP in Belgium and Luxembourg. Guillaume Pinte is appointed President for all Emeria activities in both countries.
September 2020
—
Creation of Foncia's RRES premium division, to develop its premium activities in France.
July 2020
—
Esset acquires Yxime.
June 2020
—
In Germany, Worna Zohari is appointed President of Foncia Deutschland, now Reanovo.
March › May 2020
—
During the first lockdown of the pandemic and while all branches were closed to the public, our teams remained available to assist customers using digital tools and ensuring business continuity.
December 2019
—
Foncia Institutional Property Management (FIPM) becomes Esset Property Management (Esset).
September 2019
—
Organization of the first general meeting of joint property owners online with Fuze.
October 2018
—
Strengthening of our position in Germany with the acquisition of Bautra's Property Management business.
October 2018
—
Acquisition of Lodgis.
December 2017
—
Philippe Salle is appointed President of the Foncia group, now Emeria.
September 2016
—
Acquisition of Icade Property Management, which was folded into the Esset brand in December 2019.
July 2016
—
Funds advised and managed by Partners Group, leading a consortium including Caisse de dépôt et placement du Québec and CIC Capital Corporation, signed a Share Purchase Agreement to acquire 100% of Foncia's shares from Bridgepoint and Eurazeo. Completion of the sale took place on 7 September 2016.
August 2014
—
Acquisition of Efficity.
2013
—
Further development in Belgium with the acquisition of Trevi Group. Acquisition of Tagerim's property administration division (representing 17 branches and approximately 500 employees).
2000 › 2006
—
International development of the Foncia group with the acquisitions of residential real estate service companies in Switzerland, Germany and Belgium.
1973 › 1993
—
Development of an advanced computerization solution for rental management and lettings and management of jointly owned properties, adapted to the expectations of local real estate agents. Launch of the first bolt-on acquisitions program aiming at expanding Foncia's presence in France.
To access our quarterly and annual reports,
please visit the Financial publications section of this website